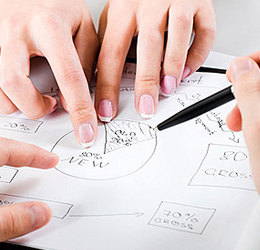 Our accountancy office is a company that started operating in 1987 when Vasilios Parlanis while fulfilling his dream, opened his own office. In 1995, after his death the office was taken over by the wife of Aikaterini Parlani who served until 2005, when his son Dimitrios Parlanis graduated from Aristotle's University and since then he has taken over his administration.

All these years of our office since 1987, our customers have found human and friendly colleagues fully trained in their subject, listening to them and solving any financial and tax problems they have.

Our office has sections for:
► Starts, Changes, Pauses, and Accounting Updates of Categories of Taxes
► tax consultancy for tax information and tax and property statements.
► Department specializing in employee payroll and OAED programs.
► Consultancy for entrepreneur ship, support your business through programs and suggestions for the smooth running of your business.
► Insurance Department partnering with the best and most economical insurance companies for your property security.
► Customer reception department is always willing to listen you and issue any tax or insurance document you need.